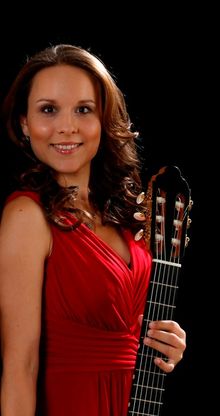 Schon in frühester Kindheit wurde Marei Sophie Janic musikalisch gefördert. Hierbei zeichnete sich schnell die Leidenschaft für den Gesang sowie die Konzertgitarre ab.
Nach erfolgreicher Teilnahme bei "Jugend Musiziert" in den Kategorien "Klassische Gitarre" sowie "Gesang" und zahlreichen Preisen bei Musikschulwettbewerben, studierte sie zunächst nach dem Abitur an der Musikhochschule Lübeck "Konzertgitarre" sowie "Musikpädagogik" und wurde weiterhin als Sopranistin u.a. mit dem Konzept der Funktionalen Stimmbildung ausgebildet.
Zusätzlich absolvierte sie den Aufbaustudiengang Staatsexamen (Master) mit Hauptfach "Gesang" und wirkte solistisch sowohl bei Kirchenkonzerten als auch bei Opernproduktionen wie "A Midsummer Night's Dream" von Benjamin Britten mit. Derzeit ist sie neben solistischen Projekten beim Extrachor des Theaters Lübeck und als Dozentin an der Knabenkantorei Lübeck engagiert.  
(www.marei-janic.jimdosite.com)
Ihr Spiel auf der Konzertgitarre wurde nachhaltig inspiriert durch zahlreiche Meisterkurse bei namhaften Gitarristen wie Pavel Steidl (Tschechien), Pablo Garibay (Mexiko), Prof. Thomas Müller-Pering und Prof. Giampaolo Bandini (Italien).
Ihren musikalischen Schwerpunkt legt die Künstlerin im Bereich Gitarre auf die kammermusikalische Literatur, um selten gehörte Klangkombinationen wieder zu beleben und die verschiedenen Facetten des Instrumentes in unterschiedlichen Perspektiven einem breiten Publikum näher zu bringen. Ihr profundes Talent stellte sie bislang u. a. in Konzerten für Gitarre Solo, Gitarrenduo und -orchester sowie in der Kombination Gitarre und Oboe, Gesang, Geige, oder Cembalo, ob beim Schleswig-Holstein Musikfestival, auf der Hörer-Akademie Bosau, beim NDR, beim Bayrischen Rundfunk oder diversen Gitarrenfestivals unter Beweis.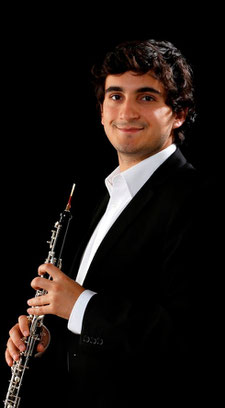 Guilherme Filipe Costa e Sousa wurde in Coimbra (Portugal) geboren. Seinen "Bachelor of Music" im Hauptfach Oboe schloss er bei Prof. Ricardo Lopes in der Escola de Musica e Artes do Espetaculo in Porto ab. Den "Master of Music" absolvierte er bei Prof. Diethelm Jonas an der Musikhochschule Lübeck.
Sowohl als Solist wie auch im kammermusikalischen Bereich hat Guilherme Sousa diverse Wettbewerbe gewonnen: u. a. den 2. Preis beim  "51. Possehl Musikpreis", den jeweils 1. Platz beim "II Concurso Nacional de Instrumentos de Sopro de Terras de La-Sallete" und beim Kammermusikwettbewerb "ConCursos" in Aveiro/Portugal. Er war 2011/12 zudem Mitglied des European Union Youth Orchestra unter der Leitung des Dirigenten Vladimir Ashkenazy.
Im darauf folgendem Jahr wurde er in Portugal zum "Jovem Músico do ano de 2013" (Nachwuchsmusiker des Jahres 2013) gekürt und gewann darüber hinaus im selben Wettbewerb "Prémio Jovens Músicos 2013" den 1. Preis in der Kategorie Oboe/höheres Niveau.
2014 wurde er zum Stipendiat der "Calouste Gulbenkian Stiftung" auserwählt. Von 2015 bis 2016 war er Mitglied der Akademie des Symphonieorchesters des Bayrischen Rundfunks, wo er im In- und Ausland unter namenhaften Dirigenten wie Mariss Jansons spielte. 2017 folgte ein Zeitvertrag bei den Duisburger Philharmonikern als Solo-Oboe. Im gleichen Jahr bekam Guilherme Sousa die Stelle als 1. Solo-Oboist der Düsseldorfer Symphoniker und ist somit an der ehemaligen Wirkstätte Robert Schumanns und Felix Mendelssohn-Bartholdys engagiert.